So, are you too tense because you still haven't figured out how to store your Thule roof box in the garage? Hmm, it's a genuine concern indeed! The traveling season is over and you need to store your big box. But, you're out of ideas and in a problematic situation! Notwithstanding, it's normal and happens to many people.
Thule cargo boxes are generally bulk in size. Therefore, it's too hard to store them. They require a lot of space in a garage. However, you can follow some tricks such as hanging them into the wall, slinging them from the ceiling, etc.
So, it's more or less certain that there are various ways to store these massive boxes without a huge-sized space. We'll share some essential solutions to keep the Thule roof box safe and secured. Let's begin –
How to Store a Thule Cargo Box? Updated for 2023
Thule is undoubtedly one of the world's top-notch roof box producing companies. They've manufactured so many high-quality cargo box series over the years. Further, they're highly expensive. So, keeping these boxes safe and protected is necessary.
Why is it Necessary to Store Thule Roof Boxes?
It is essential to store the Thule roof boxes when you're not using them on the car. There are several reasons behind it –
The Roof Box might be Vandalized
When you're not using the cargo roof box, there's no point in keeping it on the rooftop of your vehicle. Otherwise, it could lose its lifespan and slowly lose its originality. Besides, adverse weather conditions could also harm the product.
For instance, the roof box might get heated during scorching weather conditions and lose its durability over time. On the other side, it could break or crack in snowy weather. So, you can clearly see how weather can negatively affect the roof box's overall condition. This is why keeping roof boxes in a safe place is the best when they are not in use.
Can Negatively Affect the MPG
When you keep the cargo box over the car's roof, it creates unnecessary drag and weight. As a result, your car might slow down when you drive it. This also draws higher fuel bills. Since fuel efficiency decreases and costs you more money due to lower miles-per-gallon, it will be a good thing to remove the Thule roof box from the car.
Cargo Box might Degrade Your Vehicle
A Thule roof box is a heavy and massive product. If you consistently keep it over the car's head, it might put considerable strain on it. As a result, the car's performance could degrade day by day. So, putting a heavier Thule box over the car is definitely not a good idea. It's super harmful to the vehicle.
Keeping it in the garage is the best possible option when you're not using it.
Some Essential Things to Take Into Consideration Before Storing a Thule Cargo Box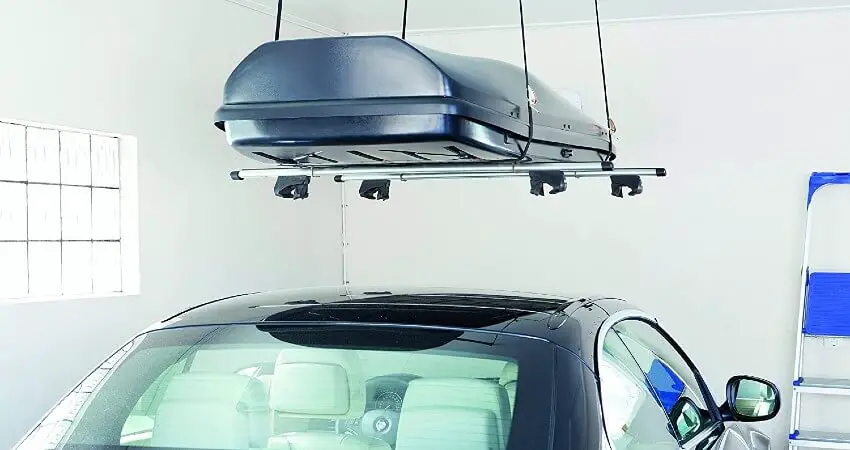 Before storing the Thule cargo box, you've to consider some factors. Let's check them out –
1. Sunshine
Remember Eric Clapton's song "Sunshine on my Shoulder"! It's a good song that resembles the sweetness of sunshine. However, too much sunshine isn't always a good thing. For instance, your high-end Thule roof box can deteriorate badly due to the unfiltered sunshine.
The extreme UV ray can slowly damage the box's outer sector and eventually disfigure it. Therefore, it will be an intelligent move for you if you keep the Thule box away from the direct sunshine. But, there's no chance of skipping it; you should apply a sophisticated sun-protective spray all over the box.
That spray works as a sunscreen that protects the face from extreme sunlight!
2. Cold Temperature
Yes, the cold or snowy temperature is not as adverse as sunlight. However, it can still significantly damage your beloved Thule box. The consistent freezing and frosting can make a hole in the box. Besides, if such an occurrence happens, you'll have to spend big bucks on repairing it.
3. Moisture Condition
Too much moisture is never a good thing for a Thule roof box. It can degrade after a time being due to the heavy moisture conditions. As a result, you should keep them in a cool and windy place.
4. Storing at a Small Space
It will be best to avoid congested places to store the Thule roof box. Since Thule is a high-end product, keeping it in a bulky place is good. Hence, storing in a small space can negatively impact it.
5. Reachable
You must ensure that you can reach the box and bring it out conveniently whenever you want. Don't put the box in a complicated space. Otherwise, a part of the box can be damaged.
Arrangements before Storing the Thule Roof Box into the Garage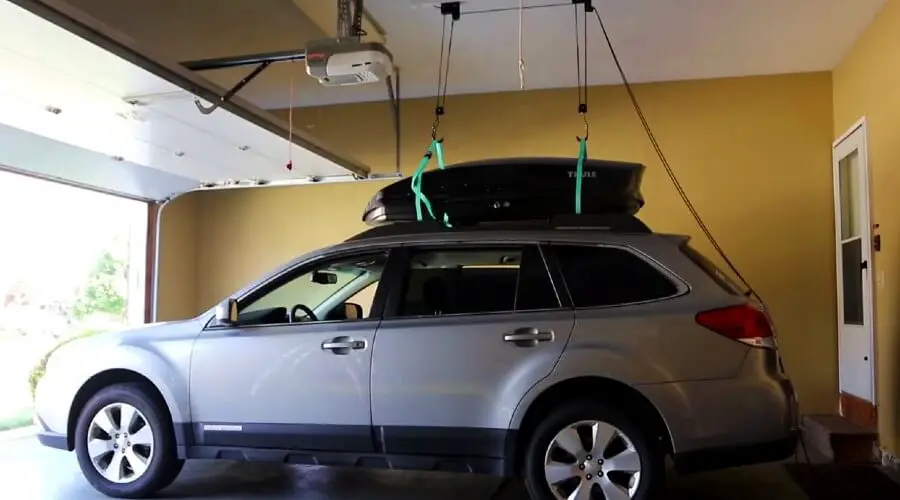 Are you getting ready to store the Thule roof box in your garage? Wait a bit, please! You have to do some crucial tasks before storing the box. Before storing the Thule cargo roof box into the garage, let's check some arrangements or preparations. Here we go –
Clean the Thule roof box
The first thing you have to do is to clean the Thule roof box. If any dust, residue, or other unnecessary ingredients cover the box, remove them with a clean cloth. After cleaning with a cloth, spray the box with a cleaner.
Clean it thoroughly on both inside and outside. But, try to avoid chemical solvents. They can damage the plastic. Since Thule is a state-of-the-art product, it will be tough to find its plastic replacement. After cleaning, wipe down the product with a soft and dry cloth.
Moreover, empty the whole box before storing it in the garage.
Clear a Perfect Place in the Garage
Before placing the Thule roof box in the garage, you've to clean the place if it is packed up with various junks. Another thing is don't put the box in a gathering place. Instead, place it in an ideal space where there's no chance it will get damaged.
Select a Suitable Place to Lay it
Do you want to lay the Thule roof box on the floor? Then, you need to find a suitable place to put it. But, don't lay it on the concrete floor. Otherwise, the bottom part of the box could be damaged. At least place some soft sheets or mats before placing the Thule roof box on the floor.
Moreover, we recommend you not lean the box against a wall or anything. Otherwise, it could be damaged permanently. So beware before laying the box on the floor.
Mount it to the Wall
If you're good at DIY work, mount the Thule box to the wall. You can also take assistance from a DIY professional if you lack confidence. Further, if you aren't willing to go for a mount, you can buy some hooks and attach them to the wall to hold the roof box.
Cover the Cargo Box
The next thing you can do is to cover the Thule roof box carefully. Ensure that no parts will be visible. This is how you can protect it from scratches, residues, and dust. Henceforth, your product will be in excellent condition due to the cover. We recommend you purchase a waterproof cover for a Thule roof box.
Yes, it will cost more money. But, it will provide the best service unambiguously. Moreover, Thule is an expensive product and it's good to cover it with a high-priced product instead of a cheaper one.
Take Away the Key
Don't leave the key to the Thule roof box inside the roof box. Besides, take away the key and keep it in a secure place. Otherwise, the key can get stuck in the lock mechanism.
How to Store a Thule Roof Box in the Garage?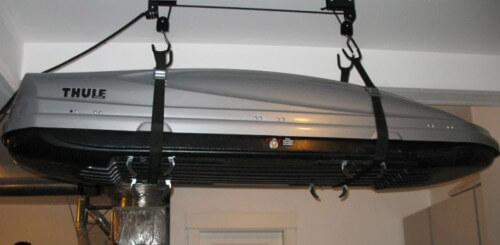 There are obvious ways to store the Thule cargo box in the garage. Here are some tips and recommendations from us. Let's check them out –
Place it on the Ground
The most suitable way to keep the box is by laying it on the floor. But, in the end, it's a high-end Thule roof box. You can't just place it on the floor. Besides, you must ensure that the floor is large enough. Moreover, don't lay the box on a concrete floor.
Another thing is don't place the Thule roof box directly on the floor. The reason is you won't like to mount hardware to stay on the ground. Therefore, putting a few 4*2 blocks of wood in order to keep up the cargo box from touching the floor will be good.
Mounted Flat to a Partition
So, you don't want to keep your beloved Thule roof box on the floor? Well, no issues! There's another way to keep it. Hence, you can install the box on the wall mount. On top of that, the installation procedure is not that hard. If you're a DIY person or take assistance from DIY professionals, you can do it quite effortlessly.
Here we are providing you with some convenient steps that could be helpful to you in installing the Thule box –
Firstly, find the place in the wall or partition where you want to keep the box.
Then, closely estimate the ceiling and wall's center where the Thule box will be situated.
The next thing you've to do is drill and set up two hooks on the wall.
Now, purchase an electrical conduit pipe from the nearest hardware shop. After purchasing, scale and cut down about the same width as the box's bottom side.
Clasp down the mounting clips slowly from the inside part of the Thule box.
After that, install the pipe over the clips
Now, lift the cargo box and mount it on the hooks. You're done.
Further, it's not a difficult task and is simple to do. If you can't do it, bring a professional DIY person who can do it. The fascinating thing about this system is it's a multifunctional thing. Hence, you can use it to mount other products like bicycles, kayaks, boats, and many other outdoor products.
Installing the Garage Storage Rack
You can store the Thule roof box in the overhead garage storage rack. Hence, it's a great solution. If your garage doesn't possess adequate storage, you can apply this way. Additionally, this is an effective and fantastic method. You can use this ceiling space in your garage very effortlessly.
Apart from the roof box, you can also use this garage storage rack to keep various seasonal items like kayaks, ski-board, rafts, etc.
Install a Lift System
If you seek to utilize a shorter space in the garage, you can go for a garage storage lift system. There's no complication in installing it. Besides, it keeps the whole carrier closer to the ceiling. It is a very efficient procedure to place a high-tech Thule roof box. In addition, you don't have to worry about any damage or anything.
One of the most sophisticated lifts garage storage systems is –
Thule MultiLift Storage System
Storage solution for rooftop cargo boxes, kayaks, surfboards , and more
Mounts directly to ceiling
Built in winch helps lift loads up to 220 lbs/ 100 kg easily
Easily raise and lower cargo by turning the crank handle
Can be lowered up to 78 inches and raises up to 6 inches from the ceiling
Preassembled with drill patterns for easy installation
Ceiling fasteners will vary based on ceiling type and are not included. 14 fasteners are needed for installation
Includes 5 mm x 10 m long rope and 4 ft crank handle
Product weight: 7.5 lbs
Product dimensions: 36 x 60 x 30 inches
How to Store a Thule Roof Box? – FAQs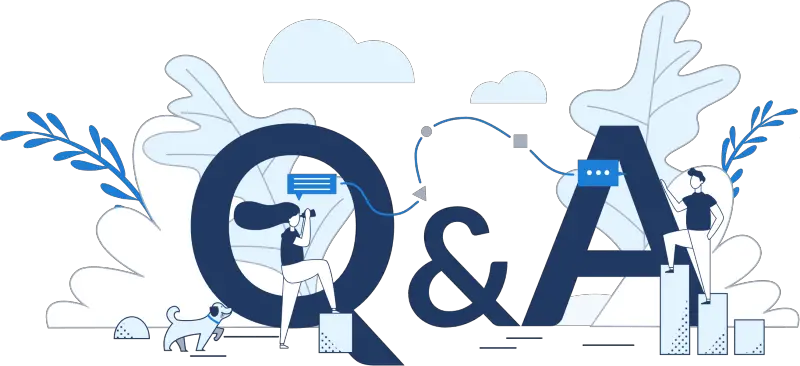 What should I check when selecting a box lift?
You'll find varieties of box lifts on the market. But, you have to check a few things before selecting a perfect one. For instance, you should check how much weight it can carry, the overall quality of the cranks, sturdiness, and price.
How can I install a Thule Multi-lift?
The Thule multi-lift installation procedure isn't so hard. Here we are saying in short – the 6 screws hold the central element in place. Then, 2 screws each for the 4 wheels.
Further, you circle the rope over the wheels and through the center directly, tie it, put the stack between the 2 rope circles, and then wrench it up to the ceiling.
How heavy is a Thule roof box?
Thule roof boxes are around 20 to 25 kg. It also includes the roof bars.
Wrapping Up – Here's the end story of it!
Thule is one of the top-class roof box manufacturing companies. Since it is an advanced product, you can't show negligence on it. Furthermore, you should remove the roof box when it's not in use. For this reason, you must keep the Thule box aside when you're not traveling anywhere.
Unpacking the thing and keeping it in a safe place can stretch the longevity and durability of the product. So, we hope our methods will be helpful to you. Let's practice one of the procedures and let us know how it goes! Bye!
Best Seller List of Thule Roof Box Storage Systems:
Bestseller No. 1
CARTMAN Kayak Hoist Garage Ceiling Storage, Rooftop Carriers, Overhead Pulley System for Kayaks,...
UTILIZE YOUR SPACE - Get your garage organized by hanging your cargo in your overhead. Use our kayak ceiling hoist, easy hang high volume items up to ceiling to save space in your garage.
LARGE CAPACITY - Our kayak pulley storage system has a max 125lbs load capacity, for maximum product life, we recommend lifting heavy weights under 100lbs.
EASY INSTALLATION - Designed with an innovative pulley system, you can mount or hang kayaks, tires, bicycles, ladders and any other bulky items up to 12ft high ceilings.
SAFETY LOCK - Never worry that what you hang will fall, the cargo carrier storage hoist is equipped with a safety lock mechanism that prevents accidental release.
PREMIUM BUILD - Made of heavy-duty iron with rubber coating, which protects objects from scratching. Strong nylon ropes make sure goods are secure and will not fall.
Bestseller No. 2
Rhino Rack Wall Hanger Large Capacity Holds up to 176lbs for Roof Boxes Kayaks SUP Canoes & More...
SMART STORAGE - Keep your home and workspace clear of clutter with the Large Rhino-Rack Wall Hanger. The Wall Hanger allows you to mount and store your luggage box, tray, kayak securely to the wall saving floor space. Store up to 176lbs (80kg) items.
WALL MOUNT - The Rhino-Rack Large Wall Hanger can be mounted to most types of walls including brick, wood, and drywall. Make sure for regular drywall walls, you use a stud finder to locate and secure the Hanger to the wall studs.
QUALITY MATERIALS - The Wall Hanger features high quality electroplated powder coated steel tubes for outdoor corrosion resistance and long life. The padding is UV stabilized for outdoor use. Fading may occur with outdoor use compared to indoor use.
LOAD RATING - With a maximum payload of 176 pounds (80kg), it's super strong to hold just about anything you need to store. From a roof box, kayak, paddle board, canoe, surfboard, snowboards, skis, etc. Make space for all your adventure gear.
SUPER STRONG - While other brands have a maximum load capacity of 50 to 100 pounds, store 76lbs to 126lbs more with Rhino-Rack's heavy duty Wall Hanger. Compare and see the quality difference.
TIE DOWN STRAP - We've even included an 11.5-foot (3.5M) tie down strap to keep your gear in place, just in case it's bulky or awkward, or you're worried about it moving. The strap is plenty long to secure most anything to the Wall Hanger.
INSTALLATION - The Wall Hanger comes with all the hardware and mounting brackets for straightforward mounting. You may need a tape measure and electric drill/driver for installation. Easy to read instructions included. Just measure, drill and secure.
ADVENTURE - At Rhino-Rack, we believe there's an adventurer in all of us. It's what drives us to create world-ready outdoor gear, born and proven in Australia. We believe life is better when we Make Space for Adventure.
ENVIRONMENT - The best thing we can do for the environment is make our stuff last longer. We care deeply about preserving the landscapes we love, and work hard to minimize our environmental impact across the board - from design to manufacturing & beyond.
EVERY JOURNEY - Every Journey starts somewhere. Whether you're a beginner, enthusiast, or veteran explorer – hitting the road for work or play – we strive to build products which help make adventure inclusive for everybody.
Bestseller No. 3
HARKEN - Cargo Box Overhead Garage Storage Hoist, Self-Leveling, Safe Anti-Drop System, Easy...
Designed for one-person operation. Made in USA!
Raise and lower with a single control rope
Patented design lifts and lowers loads evenly, regardless of weight distribution
Self-locking safety cleat grips instantly if the rope is accidentally released
Stainless steel hardware, double-braid rope for strength, durability, long life. Everything is included for easy installation
Bestseller No. 4
Overland Vehicle Systems Waterproof Dry Storage Box | Locking Roof Cargo Box, Truck Bed and Camping...
Ultimate Protection for Your Gear: Safeguard your outdoor equipment with the Premium Dry Cargo Box by Overland Vehicle Systems. Designed to withstand the harshest environments, these rugged Dry Boxes offer unbeatable protection wherever your adventures take you.
Uncompromising Durability: Built to last, OVS's Dry Boxes are manufactured with Durable Polyethylene LLLDPE Material, featuring built-in Strength Ridges for added structural durability. The Military Grade Dustproof and Waterproof Gasket Seal ensures superior performance, while the Ballistic Handles and Heavy Duty Latches guarantee a secure and tight seal when closed.
Convenient Features for Outdoor Enthusiasts: Enjoy the convenience of a built-in Bottle Opener, making it easy to kick back and relax after a thrilling adventure. The Two Locking Points provide added security for your valuable items. With Heavy Duty Latches, sturdy Handles, and a Dustproof and Waterproof Seal, OVS Dry Boxes are designed with your needs in mind.
Versatile Storage for All Your Outdoor Activities: The Overland Vehicle Systems Dry Storage Box is universally applicable, making it the ideal solution for storing your tools, dry goods, recovery gear, clothes, and more during various outdoor adventures such as automotive, marine, RV, SXS, off-road excursions, camping, hunting, and fishing.
Durable Peace of Mind: With the Overland Vehicle Systems Dry Box Storage Solutions, you can trust in its durability and quality craftsmanship. Enjoy the confidence that your gear is protected and secure, backed by a four-year limited warranty.
Bestseller No. 5
Auto Dynasty Heavy Duty Hard Shell Roof Top Mount Car Storage Travel Luggage Box Cargo Carrier with...
▶️ This roof top storage box is universal fit for mounting to max 13 inches wide cross bar, please check the dimension before purchase.
▶️ The package comes with [1] 53 inches length storage box, [2] security lock key, and [4] heavy duty tool free installation mounting brackets.
▶️ It is constructed of rugged, impact-resistant ABS material to ensure a long lasting life in outdoor conditions. More, it can open from the side and stay open till you close it with the strong support arm.
▶️ Opens on the passenger side to 14 inches wide to store bulky items from the side and stays open till you close it, and it is very easy to install without any tool required to assembly.
▶️ Overall Dimensions: 53" L x 34" W x 15" H | Capacity: 11 Cubic Feet and up to 110 LBS
Sale
Bestseller No. 6
Ultimate Guide: Barns, Sheds & Outbuildings, Updated 4th Edition, Plan/Design/Build: Step-by-Step...
Editors of Creative Homeowner (Author)
English (Publication Language)
304 Pages - 08/13/2019 (Publication Date) - Design Originals (Publisher)
Bestseller No. 7
MAGARROW 65" 1.5" Utility Straps with Buckle Adjustable, 4-Pack (Black (4-PCS))
★ Strap with Plastic Buckle. Stronger, Heavy Duty, Wear-resistant and more Durable. Package contains: 4 Packing Straps.
★ Strap Width: 1-1/2". Usable Length: 65". You can adjust the length on both sides. If you still think it's too long, you could cut out some of it to get the length you need.
★ Suitable for your Suitcase, Luggage Bag, Backpack, and so on. You can even use it as a belt! Find out more ways to use it.
★ Secure buckle closure, easy to use. Whether you are Traveling or Moving, this is A must-have for packing.
★ If you have a domestic or overseas trip, the packing buckle strap will be one of the best travel companions. If your friend loves to travel, please do not hesitate, this is a great gift for her / him. 3 colors option (Black, Army Green, Tan). You can choose 4-PCS, 6-PCS or 10-PCS.
Sale
Bestseller No. 8
Rightline Gear Range Jr Weatherproof Rooftop Cargo Carrier for Top of Vehicle, Attaches With or...
Car Top Carrier: Our convenient roof cargo carrier allows you to keep your gear up top, so you can transport belongings and passengers without compromising on safety, comfort, or convenience
Intuitive Features: Specially designed to keep your gear dry, our waterproof car roof cargo carrier features welded seams, an urethane-coated zipper, and a hook-and-loop-close zipper flap
Quality Construction: Constructed of UV-protected PVC semi-coated mesh, our durable vehicle cargo carriers are designed to keep your belongings dry and won't fly off your roof
Simple Setup: Simply attach the straps of the roof bag to your vehicle's roof rack or use the included car clips to attach the straps to your vehicle's door frame weather molding
Seamless Storage: Our rooftop cargo bag folds down for storage in the included stuff sack; Car roof bag, 4 attachment straps, 4 car clips, and stuff sack with sewn-in setup guide included
Bestseller No. 9
AMVR [Pro Version] VR Cable Management System, 6 Packs Ceiling Pulley System for Oculus Quest/Quest...
【Immersive VR Experience】The entire VR cable management system designed by AMVR, adopts silicone, ABS and rubber materials and noise damper technology to maximize silence and minimize cable tension during use. Vr wire pulley system dramatically reduces the cable's presence and lets you freely move around your playspace without worry of yanking your wire or headset and you will no longer trip up or tangled by your VR-headset's cords, make you easier to get fully immersed in vr games.
【Simpler and Smarter Design】AMVR simplify the VR ceiling cord management system, from the noiseless integrated design of the top soft ring and pulley body to the integrated 360° rotation function inside the HMD cable bracket, making it easy to assemble and disassemble. The retractable vr pulley system and metal ring hook can be used in combination to expand the range of movement play area. It feels smooth when moving and you won't really notice the pulleys are even there most of the time.
【Broad Compatibility 】 The VR accessories is perfect and must have for Oculus Quest 2/ Quest 1, Valve Index VR, HP Reverb G2, HTC Vive, HTC Vive Pro, Vive Cosmos, Oculus Rift, Oculus Rift S, Playstation VR, Microsoft MR, Odyssey VR, and other wired virtual reality headsets, the HMD cable holder is made of soft elastic rubber so no worry about damaging your cables.
【Two Install Ways】Easy to setup, you can choose adhesive hooks or screw hooks, depending on whether you want to fix it permanently and what kind of ceiling you have. The tension of the retractable cable is moderate, it can extend to 71 inches (1.8m) long, and then automatically rebound, so that you have a more comfortable VR experience when playing Oculus Quest 2 or other pc vr headset which neeed vr cable link.
【Adjustable】The VR cable can reach up to 1.8m, the length of external cable can be adjusted. There are three size S, M, L of the position of the silicone band for different sizes of cables.
【What You Will Get】6 * VR Retractable Ceiling Cable Management System + 8 * Adhesive Hooks + 6 * Ceiling Screw Hook + 6 * Screw Caps + 2 * Hex Wrenches + 1 * Ring Hook+ 1*User Guide Warranty. 18-month product warranty and 24x7 hrs friendly customer service.
Bestseller No. 10
StoreYourBoard Cargo Box Ceiling Storage Hoist, Heavy Duty Holds 150 lbs, Rooftop Carrier Garage...
SPACE EFFICIENT: Utilize overhead ceiling storage space in your garage and hoist your rooftop cargo carrier out of the way.
HEAVY DUTY: Solid alloy steel components and durable rope support up to 150 lbs total. 2:1 mechanical advantage makes raising and lowering easier.
EASY TO INSTALL: Inlcudes quality wood mounting hardware. Unique design can be mounted parallel or perpendicular to ceiling joists.
ADJUSTABLE: Adjustable length center connecting strap and loading straps to fit most cargo carriers.
DESIGNED IN THE USA: Proudly engineered by the StoreYourBoard design team in Troy, Virginia. Built to hold your wheelbarrow and built to last!
Last Update : 2023-09-30