So, you're planning to spend the upcoming weekend at Chicago beach? Good idea! The sunshine, surroundings, trees, etc., are really joyful to see and feel. Since you're planning to spend a whole week with your family, you must carry many personal belongings in the car. Besides, if you're a user of the Thule roof box, you've to know how to pack your Thule box for traveling purposes.
It's definitely not an easy task to fit all the stuff in a small sedan car. So, you need to take an intelligent approach. Since Thule is a high-end product, it will be a convenient task to fill all the belongings in it. However, you still have to do some processing to make everything smooth.
This article will discuss how to pack your Thule roof box. Let's check –
Tips for Packing the Thule Roof Box
Are you thinking of purchasing a Thule roof box or have you already bought one? Fantastic! After obtaining the product, your main task is to learn how to pack it carefully. This is how you can enjoy a trouble-free vacation. But, the question is, what does that mean to know how to pack a roof box carrier?
Knowing how to pack the roof box carrier means understanding where things will get fit and appropriately oriented. You can't have a hassle-free vacation if you fail to gather proper knowledge.
Nevertheless, there are so many different tips you can follow to pack the Thule box in the correct way. Moreover, Thule is a highly advanced carrier box. So, you have to use it properly to get the best benefit. You can effortlessly enlarge your space in the box if you follow some clever tactics.
Do you know when people usually make the biggest mistake while packing a roof box? They overload it. As a result, you must estimate the overall weight limit before loading your staff.
You can know the carrier's weight limit from the manual given by the Thule. So, we don't think you've to work your brain or do anything to know it. Henceforth, when you learn the overall weight limit, it will be easy for you to load the box carrier effectively.
Now, let's check the following tips to understand how to pack the Thule cargo box efficiently. Here we go –
Understand the Weight Limits
All roof boxes have their limits. Thule is no different and it also has its maximum weight capacity. Generally, all the Thule roof boxes' weight ranges from 45 to 75kg. Apart from knowing the roof box's weight limit, you should see the capacity of the car and roof bars.
But what's the reason behind it? Well, sometimes they could be less than the capacity of the roof box. In whatever way, you should remember the total weight capacity of the car while filling the roof box. However, you should also keep in mind the bar's weight too. That will be helpful.
Pack the Bulky Products at First
A car's trunk has vast capability and a massive amount of space. Therefore, you should fill the trunk space with your bulkiest items. Further, the rooftop isn't that strong like the trunk. So, it's clear that putting the heaviest things on the rooftop instead of the trunk will be a foolish task.
Since Thule is a high-end product, you shouldn't risk its lifespan or anything by putting high pressure on it. So, be careful on that.
Spread the Weight Equally
After this point, we'll officially stop to talk about weight! But, you should be alert to that! Because you need to know that point! The main point is to spread the weight equally in the roof box. Although the Thule roof box is sturdy and sophisticated enough, it could also lead to a problem.
For instance, the uneven distribution of weight could make a noisy ride. As a result, your traveling won't be complicated and disgusting. It will be best if you keep the tangible item in the center and the other items on the side of the box.
Try to manage everything smartly. For example – keep half things on one side and the other half on another side.
Keep the Sports Gadgets on Top
Are you a sports lover or like to play sports regularly? Then, the Thule roof box could be perfect for you. Hence, most Thule boxes are designed explicitly with such a purpose. Sports amenities like skis, snowboards, etc., are adjusted in the Thule cargo box in a genuine way.
Putting sports equipment on top means they won't stand against anybody inside the car. This is a considerable advantage indeed.
Keep the Suitcase Upward
Most of us think that suitcases stay at the last part of our boots. But, it's wrong if you own a Thule roof box. Almost all the Thule boxes are specifically designed in a suitable way where you will feel that these boxes are made for suitcases.
The trunk will be free if you keep the suitcase on top of the box. As a result, you can effortlessly keep the rest of the stuff in there.
Make the Full Use of Holders
Thule roof boxes have separate holders, straps, and hooks. This is how you will be able to secure the items efficiently. On top of that, these straps and holders effectively enhance the box's space.
Protect the Locking System
It's crucial to protect your locking system competently. Otherwise, things could turn terrible. Besides, there's a chance of flying the items inside the box rather than the box itself. It will surely be pathetic, isn't it? So, you should pay heed to the box very carefully.
On the other hand, you should ensure that the locking elements are in a safe place. Always stay alert on these items before starting the journey. Hence, you should make sure that the belongings are resolutely locked up before leaving for travel.
Pack Things in Plastic
A superior roof box like Thule usually doesn't face problems in rainy or snowy weather. They can effectively protect the belongings inside of them. Nevertheless, taking different measurements is always a good thing. For this reason, you can wrap some specific or sensitive items with plastic.
Get Help from Somebody
Thule roof boxes are sturdy and weighty. It's hard to load it from a standing place on the ground to get the best output. So, what should you do? In such a scenario, it will be best to get help from somebody. The helper will stand on the ground in order to hand over the products and luggage.
On the other side, you will be standing on the backseat floor and organizing everything in a sophisticated way. Quite a team up! Isn't it?!
How to Pack Thule Roof Boxes – Pros and Cons of Thule Cargo Box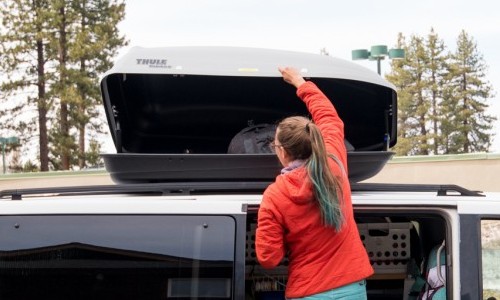 Just like everything else, Thule boxes have some advantages and disadvantages –
Pros:
Thule boxes are broader and shorter. You can conveniently keep your sporting equipment such as skis, snowboards, tents, yoga mats, etc.
It is smooth and hassle-free to use.
These boxes provide a massive space to keep various products.
It is highly durable, long-lasting, and can keep a healthy status for a long time.
If you're a sports lover, Thule is for you!
Many Thule boxes provide a lifetime warranty.
Cons:
Thule boxes block the sunroof
It makes a more enormous impact on the gas mileage of the vehicle. As a result, the budget could get skyrocket
It is expensive and sometimes complicated to handle.
A Few Essential Points to Remember before Traveling with a Thule Roof Box
We are guessing that you've watched the "The Hangover" film the night before traveling and you're inspired! It's time to get ready, set, and go! Since you've loaded all the belongings in the Thule box efficiently, it's safe to say that you're more than ready to hit the highway.
Nevertheless, you still need to remember some vital points before traveling with the Thule roof box. Let's see those points quickly –
Know the Vehicle's Height
Once you set the roof box on the top of the vehicle, it will be challenging for you to get access to all the places. So, you should act smarter when you're about to enter the garage, parking lot, or carports. Since Thule roof boxes are mostly taller, you could even face fines for that.
Hence, you have to be careful to avoid damaging your car. Otherwise, things could get gruesome for you.
Check the Weather Condition before Starting Journey
If you forget to pack your belongings in plastic, you could change your mind after smelling an adverse weather condition. Additionally, if you see the sign of a heavy storm or snowfall, it will be the best decision to move back and stay home rather than making an outing with the Thule box.
Although Thule is a highly expensive and superb product, there's no need to make a bet.
Remember the Speed Limit
If we talk about the legal point of view, there's no added speed limit from any government. However, a roof box can drag your car. For this reason, when you upward the speed limit, the drag could increase with speed. At one point, the speed limit could reach beyond the recommended by the government.
So, you should pay attention to this fact and don't embarrass yourself by dragging yourself into the worst condition. Furthermore, a vehicle's response to side wind is highly sensitive. Fuel consumption and cost also increase due to it. Remember these things before hitting the road with a roof box attached to the top of the car.
Check out the Overall Car Condition
Before hitting the street with a Thule rooftop cargo carrier, check out the car's overall condition carefully. Thule is a sturdy box. So, the vehicle must be in tip-top shape to carry it. In addition, please don't ignore the fact and remember it.
How to Pack the Thule Cargo Box – FAQs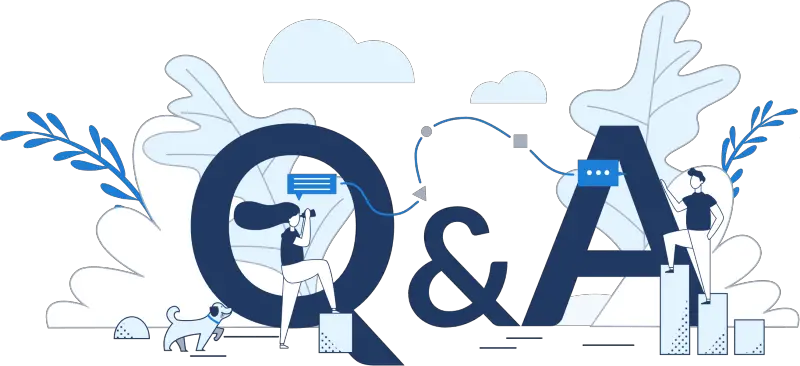 How much weight does my Thule cargo box capable of carrying?
The capability of carrying the weight of your Thule box mostly depends on the maximum roof load of the car. Besides, the road capacity of the Thule roof box is around 45KG to 75KG. You should pack bulkier and lighter products when you are going to pack the box with your personal belongings.
Is it possible to use the Thule roof cargo box in my electric car?
Well, it mainly depends on the electric car itself. Some electric vehicles possess the space for rooftop carriers. On the other side, some cars don't. You can use rear cargo carriers to solve this problem.
Final Words – The Last Ride!
Want to pay a visit to the sea or mountain hill? It's up to you! But, ensure that the journey will be a beautiful and memorable one. To make it happen, a Thule box is necessary. As it is a superb and high-end rooftop cargo carrier, it could make your journey flexible by containing personal belongings.
Let's enjoy the journey with Thule and share your experience with us. Have a fun and happy journey! Bye!
Best Seller List of Thule Roof Cargo Box:
Bestseller No. 1
Thule Force XT Rooftop Cargo Box, X-Large
A versatile roof-mounted cargo box for everyday use
Provides 18 cubic feet of additional packing space
Designed to fit a wide range a vehciles with maximum space efficiency
Quick-mount system "clicks" when roof box is secure and properly mounted
Dual-side opening for easy access to all areas of the box, from either side of the vehicle
Full trunk access with no roof box contact
Fits 5-7 pairs of skis / 3-5 snowboards (up to 195 cm)
External dimensions: 82.75 x 33.75 x 17.25 inches
Internal Dimensions: 77.5 x 29.5 x 15.25 inches
Load capacity: 165 lbs; Product Weight: 47 lbs
Bestseller No. 2
Thule 613 Pulse Cargo Box Alpine, Black
Functional rooftop cargo box provides 11 cubic feet of additional packing space
Rugged and durable design keep contents protected
FastGrip quick-mount system assembles in minutes
Passenger-side opening for easy loading and unloading
Central Locking system provides maximum safety
Thule Comfort Key can only be removed when all locking points are securely closed
Fits 4-6 skis/3-4 snowboards
External dimensions: 88.5 x 25.5 x 12.5 inches; Internal dimensions: 82.75 x 23.5 x 10.5 inches
Load capacity: 110 lbs; Product weight: 30 lbs
Height off crossbar: 11.3 inches
Bestseller No. 3
Goplus Cargo Box, Waterproof Rooftop Cargo Carrier, Heavy Duty Roof Storage Box, 14 Cubic Feet, for...
Perfect for Road Trip---Take the cargo box to the park, the beach, the sports field, or any place you need to store. Works on all vehicles with rack, suitable for cars, vans, SUVs, etc. Sleek aerodynamic design to reduce drag and has less noise.
14 Cubic Feet Cargo Box with Car Trunk Organizer---With the large capacity, the roof cargo box can help you securely carry 14 cubic feet worth of essentials, can increase vehicle cargo space without impeding on passenger comfort, more capacity, more pleasure! Included trunk organizer comes with 3 different size compartments, 12 side bags which will help you organize sundries with ease.
Robust and Security Design---The roof cargo box is designed to withstand heavy use in different types of weather conditions. The metal lid stiffeners at the bottom makes the roof box more stable and safer. With the double-lock design for protecting your valuables.
【Note】This product is suitable for vehicles with rack (Compatible with 17" to 22.8" wide rack, the width of the crossbar should be less than 3.1 inches and the thickness should be less than 1.0 inches)
High Quality Material---The roof box is manufactured from sturdy ABS and PC material for long-lasting use, able to protect your valuables from exposure to the elements and can load 165 lbs capacity, suitable for round, square, factory and most aerodynamic bars.
Easy to Install---The Goplus roof box equipped with 4 quick connect anchors for easy install and super latch security ensures your lid secure to its base, and your gear is safe. Dual-sided opening for easy access on either side of your vehicle to increased efficiency and convenience.【Note: please do not open the openings on both sides at the same time. The key can only be removed after the cover is closed and locked.】
Bestseller No. 4
Thule GoPack Duffel Bags - Set of 4 - Cargo Organization - Wide Mouth Opening - Durable Materials -...
Complete four-pack of bags for organizing the roof box or trunk load
Easy access to your gear through oversized, wide mouth opening
Quickly access smaller items through external stash pocket
Padded shoulder strap and multiple grip handles for comfortable carry
Side handles for convenient handling in the roof box
Included color coded ID cards make bag identification quick and easy
Made from lightweight yet durable fabric (600D Ripstop Nylon)
Folds flat for easy storage when not in use
Volume: 60L
Individual bag weight: 1.7 lbs
Bestseller No. 5
StoreYourBoard Cargo Box Ceiling Storage Hoist, Heavy Duty Holds 150 lbs, Rooftop Carrier Garage...
SPACE EFFICIENT: Utilize overhead ceiling storage space in your garage and hoist your rooftop cargo carrier out of the way.
HEAVY DUTY: Solid alloy steel components and durable rope support up to 150 lbs total. 2:1 mechanical advantage makes raising and lowering easier.
EASY TO INSTALL: Inlcudes quality wood mounting hardware. Unique design can be mounted parallel or perpendicular to ceiling joists.
ADJUSTABLE: Adjustable length center connecting strap and loading straps to fit most cargo carriers.
DESIGNED IN THE USA: Proudly engineered by the StoreYourBoard design team in Troy, Virginia. Built to hold your wheelbarrow and built to last!
Bestseller No. 6
Thule Motion XT Rooftop Cargo Carrier, XXL
Oversized roof-mounted cargo box provides 22 cubic feet of additional packing space
Designed for optimal space efficiency, aerodynamics, and vehicle fit
Quick-mount system "clicks" when roof box is secure and properly mounted
Dual-side opening for quick access from either side of the car
Easy to open and close with grip-friendly handles and supporting lid-lifters
Full trunk access and no roof box contact
Lid automatically locks in place and indicates a secure closure (One Key System compatible)
Fits 5-7 pairs of skis / 3-5 snowboards
External dimensions: 91.5 x 37.5 x 18 inches; Internal dimensions: 84.5 x 33 x 16 inches
Load capacity: 165 lbs; Product Weight: 55 lbs
Bestseller No. 7
X AUTOHAUX 4 PCS Universal Roof Box U Bolt Clamps Rooftop Cargo Carrier Rack Bolts 83mm Internal...
[Fitment of Roof Rack Clamps Brackets ] Fit for most cars, van cargo carrier roof box on the market. Inner width 83mm/3.27in, width from center to center of screw thread 90mm/3.54in, diameter of screws is 7.5mm/0.3in. Can be used for up 80mm width luggage rack. Not suit for Thule Car Rack.
[Neccessity of Cargo Carrier Replacement Bolts] To avoid the roof box fall and to keep its stable during driving. Rubber gasket and plastic back board can protect your car from scratches, and increase friction, improve overall stability and good restraint effect.
[Features of Roof Box Bracket Kit] Made of iron and plastic, to anti-oxidant, wear resistant, strong temperature resistance, hard to break and deform, durable to prolong service life.
[Install of Car Roof Rack Basket Bolts] Simple and convenient to install. Accurate mounting size and long-enough bandages, suit your roof box and daily opening and closing box. Small-sized, lightweight to store convenient.
[Package of Roof Rack Mounting Brackets] This roof box accessories contains 4x Iron bolts, 4x rubber washers, 4x plastic support boards, 8x heavy lock nuts and 2 bandages, 1x Black Sticker. Please confirm the size and appearance of roof box and install place before purchasing. And check relevant install video when you in doubt.
Sale
Bestseller No. 8
Rightline Gear Range Jr Weatherproof Rooftop Cargo Carrier for Top of Vehicle, Attaches With or...
Car Top Carrier: Our convenient roof cargo carrier allows you to keep your gear up top, so you can transport belongings and passengers without compromising on safety, comfort, or convenience
Intuitive Features: Specially designed to keep your gear dry, our waterproof car roof cargo carrier features welded seams, an urethane-coated zipper, and a hook-and-loop-close zipper flap
Quality Construction: Constructed of UV-protected PVC semi-coated mesh, our durable vehicle cargo carriers are designed to keep your belongings dry and won't fly off your roof
Simple Setup: Simply attach the straps of the roof bag to your vehicle's roof rack or use the included car clips to attach the straps to your vehicle's door frame weather molding
Seamless Storage: Our rooftop cargo bag folds down for storage in the included stuff sack; Car roof bag, 4 attachment straps, 4 car clips, and stuff sack with sewn-in setup guide included
Sale
Bestseller No. 9
TACTIK Rooftop Cargo Carrier Hard Shell, X-Large, Dark Slate - Rooftop Cargo Carrier for Top of...
UNLOAD FROM BOTH SIDES - the patent-pending dual side-opening design allows you conveniently load and unload your travel luggage and gear from both sides of the rooftop cargo carrier so you're out of the way of traffic while you unload
FUEL EFFICIENT DESIGN - the aerodynamic design of the roof rack cargo carrier reduces drag and wind resistance to minimize fuel economy disruption. The 18 cu ft carrier measures 57" x 38.5" x 17.75" and the 10 cu ft carrier is 46.5" x 30.5" x 17.75"
SECURE LOCKING SYSTEM - this car top carrier secures your luggage with a four-corner cam locking system to ensure that the lid won't blow open while you're on the road with a keyed theft-resistant lock for peace of mind at stops. Includes 2 keys
WATERPROOF & UV RESISTANT - proudly made in the USA, this waterproof rooftop cargo box is manufactured from durable, all weather high-density polyethylene material that includes a built-in UV stabilizer that resists cracking and fading
MOUNTS TO CROSS BARS - the car rooftop cargo carrier is a quick and easy no-tool installation and allows you to mount to your vehicle's cross-bars (not included). Pre-drilled mounting holes for cross-bar attachment are drilled 24" on center
Bestseller No. 10
4 PCS Roof Box U-Bolt Clamps, Universal Metal Rooftop Cargo Carrier Rack Bolts, 85mm Internal Width...
Fix Your Roof Box to Keep It Safe: Our roof box U-bolt clamps are designed to hold the roof box firmly to prevent it from falling and keep it stable while driving, and the rubber gaskets and plastic back plates increase friction and stability, to deal with potholes, hills, slopes and highways.
Abundant Installation Accessories: This is a rich roof box fixing accessory kit, including 4pcs metal U bolt clamps, 4pcs plastic back plates, 4pcs rubber gaskets, 8pcs heavy lock nuts, 2pcs bandages and 1 set of hole sealing stickers, which is enough to meet your long-term demand.
Quality Material to Last: Made of quality select metal and plastic material, the roof box U-bolt clamps are not easy to break or deform and be corroded by acid, alkali, wind and rain, etc., strong and durable, while the soft rubber gaskets can protect your loved car from scratches.
Fits Most Cars: The roof box clamps with 85mm/3.34in inner width and 90mm/3.54in spacing between thread centers fit most car models in the market. All accessories are light in weight and small in size so can be easily stored in the trunk to be available for use at any time when needed.
Easy to Install: These roof box U-bolt clips can be installed in just 3-5 minutes, which is easy and convenient. The bandage is long enough to fasten anything to the car roof. If you have any questions, please contact us. Our technical team and after-sales team are always behind you.
Last Update : 2023-09-30