Looking for the best roof box for your Tesla Model Y? Look no further! We've done the research and found the perfect roof box that combines style, functionality, and compatibility. These roof boxes are easy to install and secure, ensuring a hassle-free experience. Plus, their durable construction and weather-resistant features provide peace of mind, even in challenging conditions.
The demand for Tesla cars is incredibly high due to their popularity and trendiness. Among the various Tesla models, the Tesla Model Y stands out. Initially lacking a roof rack, this model posed a challenge for those in need of additional storage space. However, extensive research revealed a strong desire among many individuals to accommodate items such as bikes, roof boxes, and more, despite the presence of a glass roof in the new Tesla.
If you're in a rush, explore the following links to purchase a top-notch roof box for your Tesla Model Y. Rest assured, we exclusively suggest the finest options, ensuring exceptional product quality.
– Best Overall – Thule Motion XT Rooftop Cargo Carrier
– Editor's Choice – Thule Force XT Cargo Box
– Value for Money – Sportrack Vista XL Cargo Box
Image
OverAll Best
Value for Money
Editor's Choice
Aerodynamic Design
Product
Thule Motion XT Cargo Box
Sportrack Vista XL Cargo Box
Size
90.5 x 35.5 x 18.5 inches
OverAll Best
Image
Product
Thule Motion XT Cargo Box
Value for Money
Image
Product
Sportrack Vista XL Cargo Box
Image
Editor's Choice
Image
Size
90.5 x 35.5 x 18.5 inches
Aerodynamic Design
Image
If you're planning a trip with friends or family, you definitely want to avoid packing all your gear onto your car's roof or back. Even if you're traveling solo, there are better options than relying only on your trunk for storage. Luckily, there's a fantastic solution available: Tesla Model Y roof boxes. These clever storage compartments offer a legal and suitable way to transport all your belongings.
Installation of Tesla Model Y Cargo Box:
Installing a roof box on Tesla Model Y is easy. You only need to follow these simple steps:
Start by checking the labels on your Model Y parts and locate the concealed arrows on your Tesla Model Y. If you cannot spot them, use a light source to make them visible.
Easily install the provided clips and pads along with the product.
Attach the side pad correctly, ensuring it is placed on the appropriate side and in the correct orientation.
Follow the manufacturer's instructions to remove the covers of the crossbars.
When tightening the nut, exercise caution and ensure it is secure without over-tightening. Over-tightening can damage your vehicle's roof.
Finally, effortlessly place and install the roof box on your Model Y.
Best Cargo Box for Tesla Model Y:
Storing your belongings on your Tesla Model Y is made easy with the Best Model Y Roof Box. Compatible with most cars, these durable and waterproof roof boxes are simple to install.
Embrace the added wind resistance that comes with them, as it's a small trade-off for their convenience and functionality. Feel free to equip your Model Y with a roof box; having one is always better than going without.
Advantages & Disadvantages of Model Y Cargo Box:
Adding a roof box to your Tesla Model Y doesn't affect performance, like any modification. However, simply installing the roof rack itself won't significantly impact performance.
However, attaching a roof box to your Tesla Model Y will slightly decrease its power. Following the manufacturer's instructions, it can reduce your Tesla's driving range by 16%. On the positive side, the Model Y roof rack comes with an integrated locking system, securing the entire car's roof. It also offers ample capacity for luggage and other items, with a maximum weight limit of 150 pounds, including attachments.
Install the roof rack and box on your Tesla Model Y for optimal results with the pointed end facing forward. This aligns with the car's pointed front and improves aerodynamic performance, reduces turbulence, and minimizes driving noise. Placing it on the side that faces the front of your Tesla Model Y is also a viable option.
About the Best Roof Rack for Tesla Model Y:
The finest Model Y roof rack for your convenience. Safely attach a roof rack to your glass roof with ease, without compromising on safety standards. Our innovative solution caters not only to Model Y but also to other Tesla models with glass roofs. Tesla has developed a dedicated roof rack for Model Y, available a year after the car's initial launch. With the introduction of this rack, we witnessed a significant surge in sales for ski, box, and bike racks as well.
The top-rated roof rack for Model Y is designed for hassle-free installation and adaptability. It seamlessly integrates with the vehicle's sleek design, ensuring a perfect fit. Thanks to the aluminum crossbars equipped with T slots, it can be swiftly adjusted to accommodate various purposes, such as securely transporting bicycles and cargo boxes.
Rest assured, our premium Model Y roof rack does not compromise the car's driving performance, aesthetic appeal, or noise levels. It is compatible with all Model Y cars and can support a wide range of cargo boxes.
Best Tesla Model Y Roof Cargo Box:
1. Thule Motion XT Cargo Box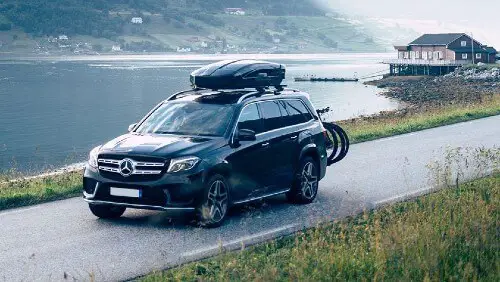 If you're looking for the best roof box for your Model Y, the Thule Motion XT is a top choice. Its sleek and aerodynamic design offers easy loading and extra space. The Motion XT is lightweight at 55 pounds and ideal for standard cars and hatchbacks. It can be positioned forward on your vehicle's roof to minimize contact with the tailgate.
Choose from six sizes and two colors to suit your needs. The Thule Motion XT has an impressive weight rating of 165 pounds and a spacious capacity of 22 cubic feet. With a width of 37.5 inches, it's the most comprehensive Thule box available. It provides ample storage at 91.5 inches long and 18 inches tall while remaining quiet on the road.
Features:
Easily Open and Close: Our Best Model Y Roof Box features user-friendly outer handles and protective lid lifters, ensuring a simple process in any situation.
Enhanced Design: Experience optimal space efficiency, improved aerodynamics, and a perfect fit for your vehicle with our upgraded roof box design.
Quick and Easy Installation: The extra-space, pre-mount Power Click system makes installation a breeze. The integrated torque pointer ensures a fast and secure fit every time.
Convenient Full Box Access: With its front position on the car roof, our roof box allows full access without the risk of contact with your cargo.
Secure Locking System: The innovative Sideclock system automatically locks the lid in place, providing added security. You can easily see when the box is securely locked.
Lightweight and High Capacity: Despite weighing only 55 pounds, our roof box boasts an impressive weight capacity of 165 pounds.
Compatible with Thule Accessories: To fit our roof box to Thule Sidebars, you'll need the Thule T-track Adapter. It works perfectly with Thule WingBar Evo, SquareBar, ProBar, and WingBar Edge.
Thule Motion XT Rooftop Cargo Carrier, XXL, Black
Oversized roof-mounted cargo box provides 22 cubic feet of additional packing space.Height off crossbar : 17 in
Designed for optimal space efficiency, aerodynamics, and vehicle fit
Quick-mount system "clicks" when roof box is secure and properly mounted
Dual-side opening for quick access from either side of the car
Easy to open and close with grip-friendly handles and supporting lid-lifters
Full trunk access and no roof box contact
Lid automatically locks in place and indicates a secure closure (One Key System compatible)
Fits 5-7 pairs of skis / 3-5 snowboards
External dimensions: 91.5 x 37.5 x 18 inches; Internal dimensions: 84.5 x 33 x 16 inches
Load capacity: 165 lbs; Product Weight: 55 lbs
2. Sportrack Vista XL Cargo Box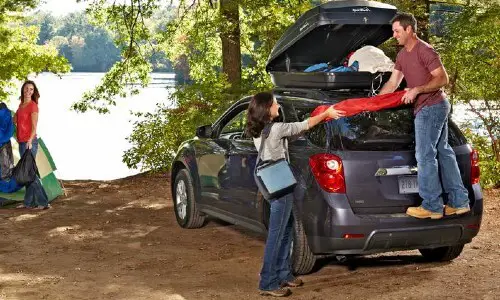 Looking for the ideal roof box for your Tesla Model Y? Consider the SportRack SR7018 Vista XL. This cargo box offers a noise-free driving experience and a sleek, aerodynamic design allowing smooth airflow. Installation is a breeze on any crossbars, making it convenient for your travels. With its ample space, it's perfect for long-distance trips. Thanks to its waterproof construction, rest easy knowing your belongings will stay safe and dry. The rear opening ensures quick access away from traffic, while the quick-release mounting system allows for easy removal.
This SportRack model is a hassle-free choice. It comes ready to install, saving you time and effort. Its U-bolt mounting system simplifies the assembly process. Despite its sturdy build, opening and closing the Vista XL is surprisingly effortless, thanks to its ergonomic grip. The lid's design ensures a secure latch every time. While it may not have all the bells and whistles of pricier options, this cargo box offers excellent value for occasional users, providing similar functionality at a fraction of the cost.
Pros:
The SportRack Vista cargo box offers ample storage for your vehicle, supporting up to 100 lbs of load.
With an easy installation that takes just minutes, this roof box effortlessly fits most factory crossbars.
Crafted from premium ABS materials, this box is built to last, providing durability, waterproofing, UV resistance, and robustness.
Enjoy the convenience of a rear-opening feature, allowing hassle-free access to your belongings from the back of the roof box.
Cons:
The lock quality is not top-notch; rest assured, it offers a dependable and secure locking mechanism.
While it may generate some whistling when driving at high speeds, its noise levels remain pleasantly low compared to other roof boxes available in the market.
SportRack Vista XL Rear Opening Cargo Box,Black
18 cubic foot (510 L) internal cargo capacity
Made from durable UV-resistant ABS material
Rear opening for easy access away from traffic
Tool-free mounting hardware for easy installation and removal
Includes key and lock to secure contents in the box, and the box to your rack
Fits SportRack Rack Systems, square bars, round bars and most factory racks (check fit guide)
Dimensions (LxWxH): 63 x 38 x 19 in / 160 x 96.5 x 48 cm
Min-Max Crossbars Spacing: 23 5/8 - 29 3/4 in (60 - 75.5 cm)
Max Weight Capacity: 100 pounds (45 kg)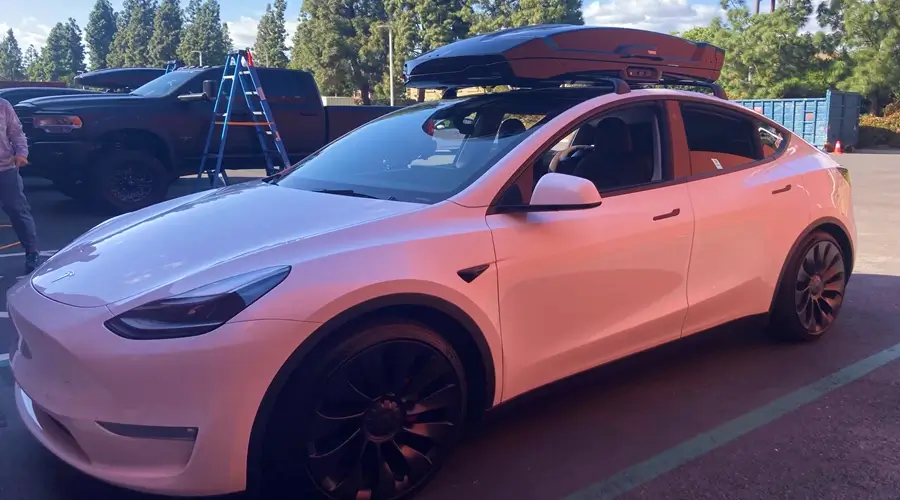 3. Goplus Cargo Box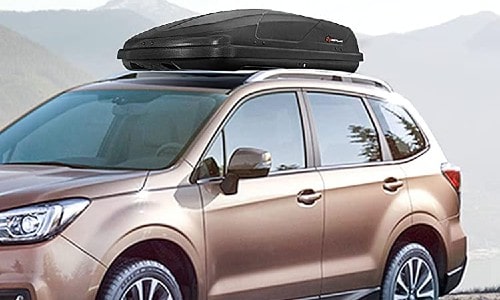 Goplus Cargo Box offers a wide range of products for home & garden, automotive tools, furniture, hardware tools, and outdoor equipment. Goplus Rooftop Cargo Carrier is a cost-effective option to increase your car's carrying capacity. Made from durable ABS and PC plastic, it is lightweight and easy to handle. The ABS material is long-lasting, water-resistant, and reliable, making it suitable for various weather conditions and outdoor use. Rest assured, your belongings will be well-protected with this roof box.
According to the manufacturer, the Goplus car roof box is compatible with all types of rack bars, including those on your Tesla Model Y. It can also be used with trucks, coupes, minivans, SUVs, and sedans. The cargo box is available in three colors: White, Black, and Titanium Gray, allowing you to match it with your car's design and color.
Pros:
A spacious storage solution with a 14 Cubic feet capacity and a maximum load of 165 lbs.
Effortlessly mount this roof box using its four convenient quick-to-connect anchors.
Enjoy enhanced reliability with its compatibility with both round and square factory bars, providing strong protection for your valuable belongings against the elements.
Rest assured with the super lock security system, ensuring your belongings remain safe and secure inside the box.
Experience convenience with the dual-sided opening feature, allowing easy access from either side of your vehicle.
Reduce drag and noise during your journey with this roof box's sleek and aerodynamic shape.
Cons:
The top looks thin.
Not ideal for transporting larger items such as adult skis or longer snowboards due to its compact size.
Goplus Cargo Box, Waterproof Rooftop Cargo Carrier, Heavy Duty Roof Storage Box, 14 Cubic Feet, for...
Perfect for Road Trip---Take the cargo box to the park, the beach, the sports field, or any place you need to store. Works on all vehicles with rack, suitable for cars, vans, SUVs, etc. Sleek aerodynamic design to reduce drag and has less noise.
14 Cubic Feet Cargo Box with Car Trunk Organizer---With the large capacity, the roof cargo box can help you securely carry 14 cubic feet worth of essentials, can increase vehicle cargo space without impeding on passenger comfort, more capacity, more pleasure! Included trunk organizer comes with 3 different size compartments, 12 side bags which will help you organize sundries with ease.
Robust and Security Design---The roof cargo box is designed to withstand heavy use in different types of weather conditions. The metal lid stiffeners at the bottom makes the roof box more stable and safer. With the double-lock design for protecting your valuables.
【Note】This product is suitable for vehicles with rack (Compatible with 17" to 22.8" wide rack, the width of the crossbar should be less than 3.1 inches and the thickness should be less than 1.0 inches)
High Quality Material---The roof box is manufactured from sturdy ABS and PC material for long-lasting use, able to protect your valuables from exposure to the elements and can load 165 lbs capacity, suitable for round, square, factory and most aerodynamic bars.
Easy to Install---The Goplus roof box equipped with 4 quick connect anchors for easy install and super latch security ensures your lid secure to its base, and your gear is safe. Dual-sided opening for easy access on either side of your vehicle to increased efficiency and convenience.【Note: please do not open the openings on both sides at the same time. The key can only be removed after the cover is closed and locked.】
4. Thule Force XT Cargo Box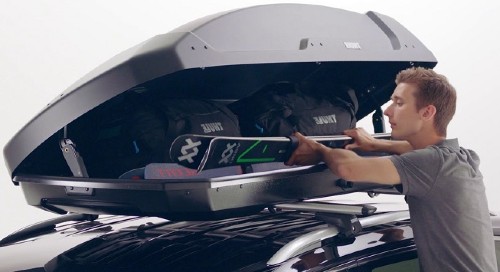 If you need extra storage space for your travel gear, including snowboards, ski equipment, or other belongings, consider purchasing a roof box. The Thule Force XT Cargo Box is an excellent option, known for its effectiveness and stylish black design that enhances the look of your vehicle.
This rooftop cargo carrier is highly recommended and comes in various sizes, such as 13 cubic feet, 11 cubic feet, and 17 cubic feet. This range allows users with different storage needs to choose the model that suits them best. The Thule Force XT Cargo Box is widely available in online stores and is recognized as one of the most reliable products in the cargo box market.
Pros:
Easily fit 6 – 8 pairs of skis or 4 – 6 snowboards in the Thule Force XT roof box.
Streamlined design and diamond-textured lid cover reduce wind resistance.
Get on the road quickly with the pre-installed QuickGrip installation system, compatible with round, square, and most factory racks.
Convenient access from both sides of the roof box with dual-side openings.
Simple and secure locking system with an easy-to-use outer lock-assist knob and key retention feature.
User-friendly locking system with oversized keys, locks on both sides of the box, and includes a spare key for each lock.
Cons:
Worth every penny despite the higher price tag.
Experiences a slight decrease in fuel efficiency, averaging around 3-5 miles per gallon.
Mounting the Thule Force XT is a breeze, but removing it can be a minor inconvenience requiring at least one person.
Thule Force XT Rooftop Cargo Box, XX-Large
An oversized, versatile roof-mounted cargo box for everyday use.Closure type :Lock. Shell type : Hard.
Provides 22 cubic feet of additional packing space
Designed to fit a wide range a vehciles with maximum space efficiency
Quick-mount system "clicks" when roof box is secure and properly mounted
Dual-side opening for easy access to all areas of the box, from either side of the vehicle
Full trunk access with no roof box contact
Fits 5-7 pairs of skis / 3-5 snowboards (up to 215 cm)
External Dimesnions: 90.5 x 35.5 x 18.5 inches
Internal Dimensions: 85.5 x 31 x 16.75 inches
Load capacity: 165 lbs; Product Weight: 52 lbs
5. YAKIMA Showcase Rooftop Cargo Box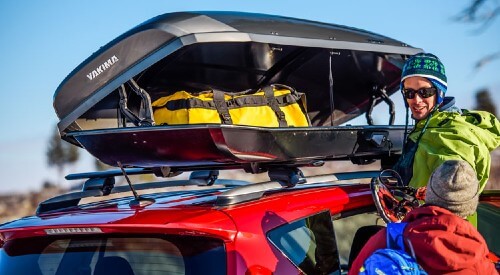 The Yakima ShowCase Rooftop Cargo Box combines functionality and style, offering a durable construction for off-road adventures. Its lightweight yet strong structure and aerodynamic design reduce wind resistance. Yakima cargo boxes have a reputation for convenience, ease of use, and durability. The Best ShowCase Cargo Box exemplifies these qualities, providing all the features you need in a premium cargo box.
Looking for a compact cargo box with an excellent design? Try the Yakima ShowCase Rooftop Cargo Box. It is designed for smaller vehicles and wagons, but it still offers ample space for all your road trip essentials. It's the perfect choice for those seeking a well-designed and reliable cargo box that will last for years to come.
Pros:
Ample Storage: With an incredibly spacious interior, the Best Model Y Roof Box allows you to effortlessly accommodate all your belongings, worry-free about running out of space. It conveniently holds up to 8 pairs of skis or 6 snowboards.
Durable and Resilient: The roof box boasts a fade and scratch-resistant finish, ensuring its pristine condition even when subjected to harsh weather conditions in different regions.
Secure Closure: Equipped with inner lid stiffeners, this roof box guarantees a tight and secure closure, providing peace of mind during transportation.
Streamlined Aerodynamics: Thanks to its aerodynamic design, the roof box minimizes wind drag, effectively keeping your valuables safely in place throughout your journey.
Enhanced Security: The Showcase incorporates SKS Locks to safeguard your gear. The key cannot be removed unless the box is locked, offering additional protection.
Easy Access: Featuring a dual-sided opening, this roof box allows convenient access from either side of your vehicle, ensuring hassle-free loading and unloading.
Cons:
With a weight of about 46 pounds, some users may find it challenging to install at times.
Its excellent bottom surface is prone to scratches, so handle it carefully.
No products found.
6. Thule Sonic Cargo Box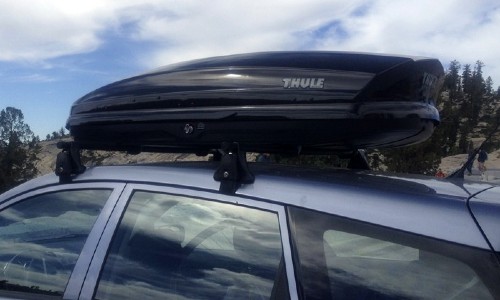 If you're looking for a safe and efficient way to transport cargo in your Tesla Model Y, consider opting for a carefully selected and well-designed Thule roof box.
When it comes to choosing a roof box, the Thule Sonic Cargo Box stands out as a fantastic option. Its sleek and stylish design is of superior quality and comes at an affordable price. The lid is sturdy and easy to open and close, and users appreciate the simplicity of the mounting hardware. As one of the quietest roof boxes we tested, the Best Sonic model remains inconspicuous on the highway, even at speeds exceeding 70 MPH.
Despite its compact size, the Thule Sonic Cargo Box offers ample storage capacity. It can comfortably accommodate a family of four and has been known to fit three duffel bags easily. Additionally, it boasts excellent waterproofing capabilities.
Pros:
The impressive capacity of the Thule Sonic XL roof box is capable of securely storing 6-8 pairs of skis or 4-6 snowboards.
Experience unparalleled protection with its outstanding waterproof design, ensuring your belongings stay dry even in heavy downpours.
Enjoy the convenience of a user-friendly storage and unloading feature, allowing easy access to items at the box's edges without the need to remove them entirely.
Effortlessly mount the roof box in seconds with its click-and-go mounting system, compatible with square and round crossbars as well as most factory racks.
Benefit from the sleek AeroNose design, allowing the box to effortlessly glide through the air, minimizing both drag and noise for a smoother ride.
Stay reassured with the advanced locking system featuring an external lock-assist knob for comfortable usage, ensuring the key can only be removed when the box is fully closed.
Cons:
It's advisable to avoid opening both sides of the roof box simultaneously, as this can be a drawback worth considering.
Thule 636B Sonic Cargo Box XXL - Black
Patented AeroNose Design cuts through the air and reduces drag and noise
Patented Rear-Angled Base and expanded vehicle mounting points help maximize trunk and hatch clearance
AcuTight Mounting "clicks" when you reach optimal hold to ensure your box is secured to the rack
Oversized SecureLock ensures the box is closed securely and properly prior to driving
Dual-Side Opening for loading/unloading from either side of the vehicle
Key Considerations for Selecting Model Y Roof Box: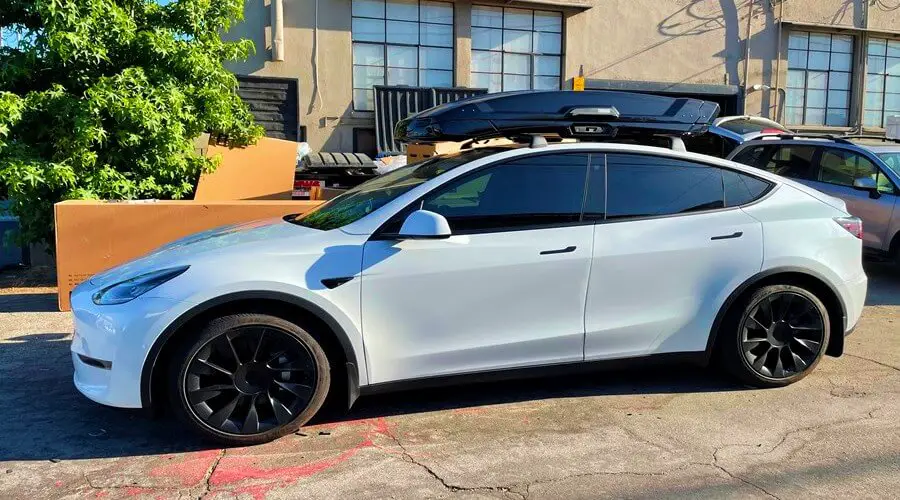 Consider these important factors when searching for the perfect roof box for your Tesla Model Y. A wide array of roof cargo boxes is available, ensuring you find the ideal fit.
Simplifying attachment: How effortless is it to connect the box?
Easy retrieval: How can you quickly locate your belongings inside?
Adequate space: Is the box sufficiently spacious?
Reliable locking: Is the locking mechanism secure?
Durability assured: Can the box withstand rigorous use?
Sufficient storage: Does it offer ample space for your needs?
Water-resistant assurance: Is the box waterproof?
Convenient storage solutions: What options are available for storing the roof box when not in use?
Effortless access: Is the lid designed for easy opening?
Streamlined aerodynamics: How does the box enhance your vehicle's airflow?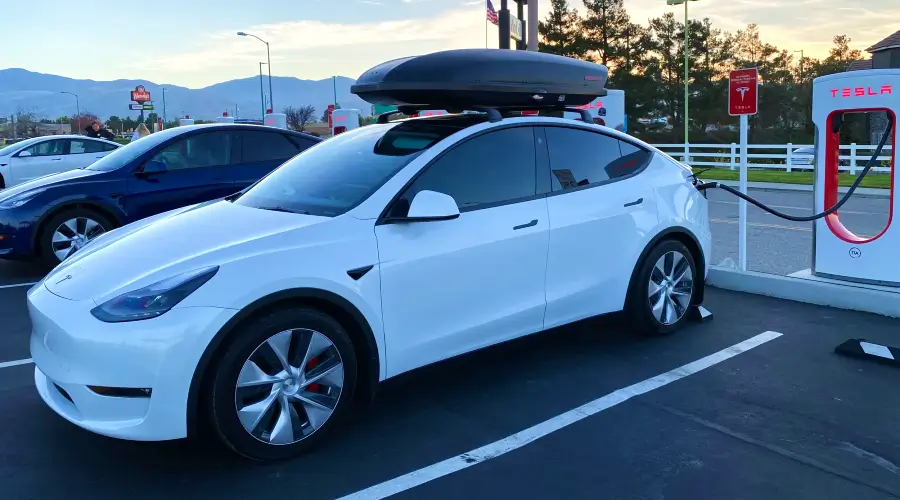 Conclusion
Consider getting a roof box if you're passionate about multiple hobbies. Many people associate them only with vacations, but they can also transport work tools. Installing one is simple and hassle-free, even if you're not a DIY expert.
The Tesla Model Y lacks storage space, making a roof box essential. We suggest purchasing one of the recommended roof boxes mentioned in this article, as they are designed to fit your Tesla Model Y perfectly. For more details, click on the provided links.
Our objective is to assist you in finding the ideal roof box through our comprehensive review and expert recommendations—your specific needs, whether based on product requirements or budget, determine the best fit for you. Rest assured. Our research is always available to help you discover the perfect roof box.
You'll encounter countless options While shopping for a roof box. It's crucial to select one that suits you perfectly. When embarking on any trip, you yearn for freedom, and space plays a vital role. Thus, making a well-informed decision when purchasing your roof box is essential. Choosing the ideal roof box can enhance your trip experience to the fullest.
-After careful assessment by our editorial board, we have thoroughly reviewed this article, and it has met all the criteria outlined in our editorial policy. As a result, we are delighted to announce its approval for publication.
FAQs of Roof Box for Tesla Model Y:
What is a roof box for a Tesla Model Y?
A roof box for a Tesla Model Y is an external storage container that can be mounted on the vehicle's roof. It provides additional cargo space for carrying luggage, sports equipment, or other traveling items.
Are roof boxes compatible with the Tesla Model Y?
Yes, roof boxes are compatible with the Tesla Model Y. The vehicle comes with built-in roof rails, allowing you to attach a roof box easily. Various roof box options are designed to fit the Model Y.
How much weight can a Tesla Model Y roof box carry?
The weight capacity of a Tesla Model Y roof box depends on the specific model and brand you choose. Generally, roof boxes can carry anywhere from 100 to 250 pounds of weight. It's important to check the manufacturer's guidelines to ensure you stay within the recommended limits.
Will a roof box affect the range or performance of my Tesla Model Y?
Yes, adding a roof box to your Tesla Model Y can slightly impact the range and performance. The increased wind resistance caused by the roof box can lead to a decrease in overall efficiency. It is advisable to remove the roof box when it's not needed to maximize the vehicle's range.
How do I install a roof box on my Tesla Model Y?
Installing a roof box on your Tesla Model Y is straightforward. First, ensure that your vehicle has factory-installed roof rails. Then, follow the instructions provided by the roof box manufacturer to attach the box to the roof rails securely. Make sure to evenly distribute the weight and double-check the box's stability before hitting the road.
Can I open the trunk of my Tesla Model Y with a roof box installed?
Yes, you can still open the trunk of your Tesla Model Y even when a roof box is installed. The roof box is typically positioned towards the front of the vehicle's roof, allowing unobstructed access to the trunk area.
Are Tesla Model Y roof boxes waterproof?
Most Tesla Model Y roof boxes are designed to be weather-resistant and provide a high level of water protection. However, it's essential to check the specifications of the specific roof box you are considering to ensure it offers adequate waterproofing.
Will installing a roof box affect the warranty of my Tesla Model Y?
Installing a roof box on your Tesla Model Y should not affect the vehicle's warranty as long as you follow the manufacturer's guidelines and use approved roof box models. However, it's always a good idea to consult your vehicle's warranty documentation or contact Tesla directly to confirm.
Can I use a roof box on my Tesla Model Y with a glass roof?
Yes, you can use a roof box on your Tesla Model Y, even if it has a glass roof. Roof boxes are designed to be compatible with various roof types, including glass roofs. However, selecting a roof box that provides proper protection and doesn't damage the glass surface is crucial.
Are there any alternatives to a roof box for additional storage in a Tesla Model Y?
Yes, if you prefer not to use a roof box, alternative storage options exist for your Tesla Model Y. You can consider using a hitch-mounted cargo carrier or utilizing the vehicle's interior space by folding down the rear seats. Both options provide additional storage capacity for your belongings.
Last Update : 2023-11-30